Forthcoming recordings and other projects You can support
You can of course sponsor a particular artist or aspect of a recording or performance should you wish. Our next recordings for which we are seeking support are: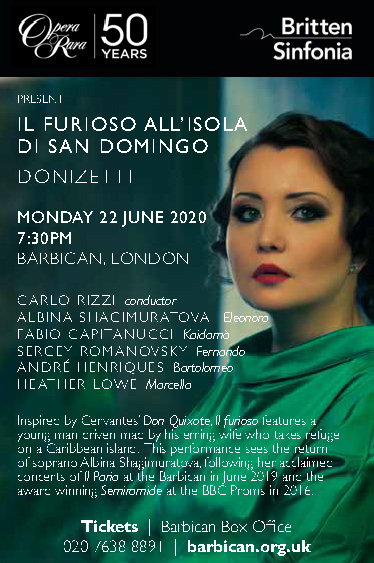 Donizetti – Il furioso all'isola di San Domingo
POSTPONED TO 2021
Britten Sinfonia and Opera Rara revive their successful partnership to present a rarely performed exotic Donizetti operatic masterpiece set in the West Indies. A stellar cast is conducted by new Opera Rara Artistic Director Carlo Rizzi and sees the return of soloist Albina Shagimuratova, following her acclaimed performances of Il Paria at the Barbican in June 2019 and her award-winning Semiramide at the BBC Proms in 2016.
"A winning evening… another Donizetti restored to the repertoire…. Job done."
Classical Source on Donizetti's Il Paria, June 2019