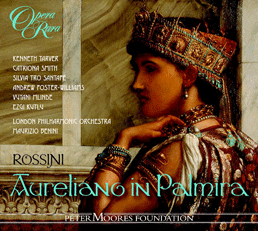 Aureliano in Palmira
June 28, 2012
NEW RELEASE – COMING SOON
ROSSINI: AURELIANO IN PALMIRA 
PRE-ORDER YOUR COPY NOW! HERE

OPERA RARA is proud to announce that its new recording of one of Rossini's rarest scores, Aureliano in Palmira, will be available in September 2012. The dramma serio was written during Rossini's miraculous 21st year (1813), when he produced in total an incredible four operas. The other three (the comedies, Il signor Bruschino and L'italiana in Algeri plus the tragedy Tancredi) indicate not only the fertility of his inventive powers but also the staggering quality of his youthful composition. Rossini fans will recognise the overture to Aureliano, recycled in three other scores, most notably Il barbiere di Siviglia!
The opera is set in 272 AD in the ancient city of Palmyra (modern Syria), where the queen, Zenobia (Catriona Smith), and her lover, the Persian general, Arsace (Silvia Tro Santafé), are defeated in battle by the Roman Emperor Aureliano (Kenneth Tarver). Aureliano agrees to free Arsace if Zenobia will give herself to him but she refuses, Eventually, he is won over by the lovers' devotion, freeing them when they pledge loyalty to Rome. On the way to this happy ending, there is plenty of extreme emotion to fire-up some of Rossini's most exciting vocal writing.
Opera Rara and the London Philharmonic produced a concert performance at the Royal Festival Hall in October 2010 immediately after the work was recorded. Tim Ashley, of the Guardian, wrote in his review, 'The star turn came from Silvia Tro Santafé as Arsace, technically impeccable and generous of tone. Aureliano, however, gets the best music: Kenneth Tarver captured his mix of dignity, waspishness and deprecating self-awareness to perfection.'
This studio recording, on 3 CDs, comes with Opera Rara's usual lavishly illustrated book, including a complete libretto with an English translation by Jeremy Commons and an article and synopsis by Richard Osborne.
A great success in its day, Aureliano promises to thrill another generation of listeners in this new studio recording under Maurizio Benini!
Cast includes: Kenneth Tarver; Catriona Smith; Silvia Tro Santafé; Ezgi Kutlu; Andrew Foster-Williams; Vuyani Mlinde, Geoffrey Mitchell Choir (under Opera Rara Chorus Director, Renato Balsadonna) London Philharmonic Orchestra. Conducted by Maurizio Benini
Catalogue number: ORC46 (3CD)