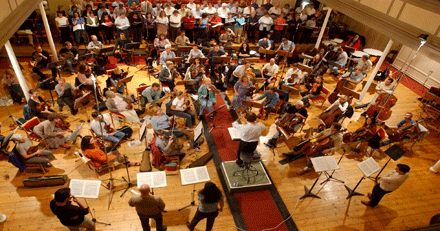 A remarkable success story
Opera Rara, the brainchild of Patric Schmid and Don White, has been in the business of bringing back forgotten operatic repertoire of the 19th-century for over 40 years. Operas once threatened with extinction have now been brought vividly back to life through the Opera Rara recordings.
In a world in which recording companies find it increasingly difficult to survive, let alone expand their activities, the achievement of Opera Rara is a remarkable success story. The secret of this success is that the company has always been a highly specialised venture founded on the conviction that there is an inexhaustible mine of fascinating, yet undeservedly forgotten, 19th-century Italian and French operatic music.
In the early days, if its recordings were to be commercially viable, Opera Rara could not venture beyond a 'popular' composer like Donizetti (its very first release, in 1978, was Ugo conte di Parigi, a totally unknown work at the time). If it risked recording such composers as Mercadante and Pacini, sales would immediately fall off. This situation is now a thing of the past. As more and more people have discovered these recordings, Mercadante, Pacini, Meyerbeer and Mayr have become increasingly 'safe territory', while good sales can also be expected for even lesser-known composers. More than ever Opera Rara is now a shaper of public taste.
Opera Rara has been quick to seize opportunities to capture live performances and has recorded rarely performed works with the Teatro Verdi in Italy, The Royal Opera House in London and The Edinburgh International Festival. At the same time the concert series with the London Philharmonic Orchestra, at London's Royal Festival Hall, helped to promote its studio recordings.
Opera Rara hopes that through its catalogue of recordings it will continue to encourage, inform and delight with its exploration of 19th-century music.