Caterina Cornaro – Press Release
May 25, 2015
Donizetti's CATERINA CORNARO – JUNE 2013 new release
In a bid to encourage consumers to buy direct from Opera Rara, this stunning new recording of Donizetti's Caterina Cornaro will be made available FOR A LIMITED PERIOD OF THREE MONTHS exclusively through its website, after which the box set will be on general release. The recording will also be available as a digital download direct from Opera Rara's website as from 3 June 2013.
Caterina Cornaro was written in the extremely productive last period of Donizetti's life (between Don Pasquale and Linda di Chamounix) and was the last of his operas to be premiered in the composer's  lifetime. Like every other work of this period, it is intensely original, in this case being unusually dark in both subject matter and general musical tone.
This is the only opera of Donizetti's later period not to have had a quality modern recording. Conductor David Parry says: "The opera requires a prima donna with a wonderful voice, extraordinary technique and exceptional histrionic ability, which we have in Carmen Giannattasio: the role could actually have been written for her.
"The story is resonant and believable, a woman forced into a political marriage with a king she does not love, but who turns out to be noble and good, so that she feels that she cannot abandon him, and who is assassinated at the instigation of a bitter enemy, leaving her to rule on her own. This calls up from Donizetti one of his most deeply felt, atmospheric and dramatically truthful scores. It is concise and hard-hitting, and I simply cannot understand why the opera is not in the repertoire; it is badly in need of a proper studio-recording."
The 2CD set is accompanied by a complete libretto with an English translation alongside an article and synopsis by the eminent 19th-century musical scholar, Jeremy Commons.
Buy the recording: Caterina Cornaro
Below: David Parry (conductor), Colin Lee (Gerardo), Colin Lee, Troy Cook (Lusignano) and David Parry, Carmen Giannattasio (Caterina Cornaro) with Troy Cook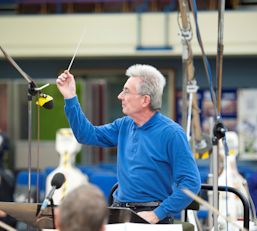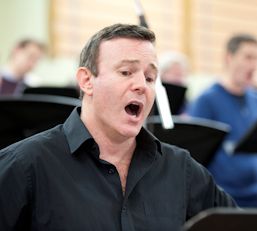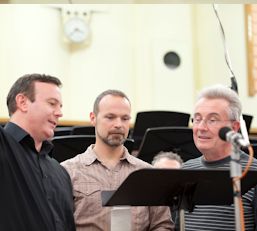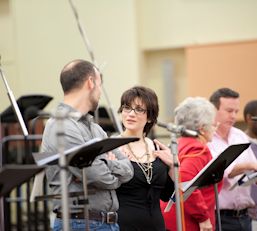 Click here to download File