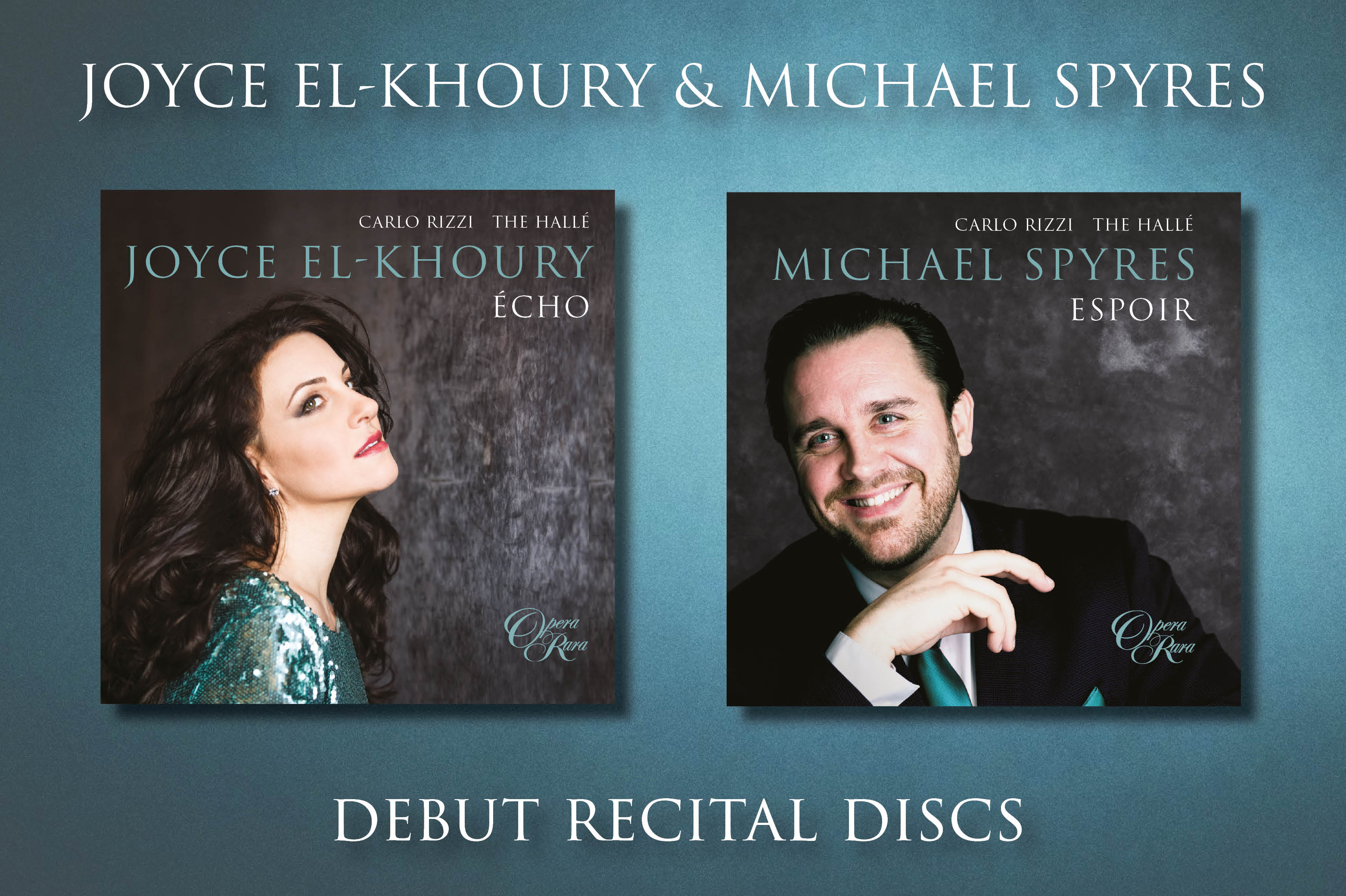 Debut Recital Discs from Joyce El-Khoury and Michael Spyres
July 3, 2017
Two New Releases by Opera Rara
Écho (Joyce El-Khoury)
The magnificent Lebanese-Canadian soprano Joyce El-Khoury's debut recital album. Born in the Lebanon and brought up in Canada, Joyce El-Khoury studied in Ottawa and Philadelphia, before graduating from the Metropolitan Opera's Lindemann Young Artist Development programme. Today she is one of the brightest young stars in the opera world, recently receiving universal acclaim for her landmark performance of Violetta in La Traviata at the Royal Opera House, Covent Garden. As well as singing extensively in America, she appears widely in opera and concert throughout Europe, including the Bayerishe Staatsoper. She returns to Covent Garden in 2018, but before then will star in Glyndebourne and Madrid, as well as singing extensively in concert.
Joyce has starred in two Opera Rara recordings to date: Donizetti's Belisario and the award-winning recording of Les Martyrs. Joyce's album Écho features music associated with the great 19th century soprano Julie Dorus-Gras, including arias by Berlioz, Donizetti, Meyerbeer and Weber. She also duets with her co-star from Les Martyrs, Michael Spyres, whose own recital disc is also released in September 2017, and is available from Opera Rara exclusively from 14th July 2017.
Espoir (Michael Spyres)
The debut solo recital album from acclaimed American tenor Michael Spyres.
Hailing from Mansfield, Missouri, Michael Sypres originally set out to pursue a career in musicals before singing opera. He comes from a family of musicians who run an opera company in Springfield MO, and after studying in the US, travelled to Europe to complete his studies in Vienna. He has rapidly established a formidable reputation for his sensitive singing and astonishing vocal range, with leading roles a the Royal Opera House Coven Garden, Lyric Theatre Chicago, Opéra de Paris and Aix-en-Provence Festival. In 2017, he appeared as Don José in Carmen in Paris and sang Enée, opposite Joyce DiDonato in Berlioz's Les Troyens in Strasbourg.
Michael starred on the Opera Rara recording of Donizetti's Les Martyrs, which received a string of awards including Opera Recording of the Year at the International Opera Awards in 2016. He returned to Opera Rara to record Le Duc d'Albe and now we are thrilled to release his debut solo recital album, featuring 19th century repertoire synonymous with the tenor-of-his-day, Gilbert-Louis Duprez. The album includes arias in French and Italian by Donizetti, Berlioz, Verdi and Rossini, as well as duets with Joyce El-Khoury, whose debut recital recording will be released alongside Michael's.