Le Portrait de Manon & Les Nuits d'été
January 11, 2013
RECORDED AT THE ROYAL OPERA HOUSE
COVENT GARDEN
ZhengZhong Zhou, Hanna Hipp, Pablo Bemsch, Susana Gaspar
Southbank Sinfonia
Geoffrey Paterson, conductor – Le Portrait de Manon
Volker Krafft, conductor – Les Nuits d'été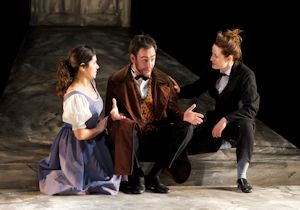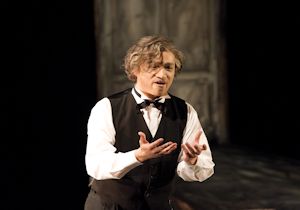 Commitment to upcoming young artists has always been central to the work of Opera Rara and this brand new release features a double bill of Massenet's Le Portrait de Manon and Berlioz's song cycle Les Nuits d'été with artists from the Jette Parker Young Artists Programme and the Southbank Sinfonia. Recorded from live staged performances at the Royal Opera House's Linbury Theatre, this is the first time the composers Massenet and Berlioz have appeared in Opera Rara's catalogue.
Le Portrait de Manon (1894): from the opening bars of Des Grieux's celebrated air, "Ah fuyez, douce image", the score is peppered with familiar quotations from Massenet's earlier work, Manon, written 10 years earlier. Des Grieux (ZhengZhong Zhou), now an old man, is still obsessed with memories of his lost love, Manon, and keeps a portrait of her in a sealed box. He is worried when his impressionable young nephew, Jean (Hanna Hipp), tells of his love for a penniless girl, Aurore (Susana Gaspar), convinced that she is little more than a gold-digger. Persuaded by his friend Tiberge (Pablo Bemsch), Des Grieux comes to realise that their love is genuine when they discover the portrait and it is revealed that Aurore is, in fact, the niece of his beloved Manon.
Les Nuits d'été: we are more familiar with hearing the cycle performed in concert by a solo voice but Berlioz did, in fact, intend these songs to be distributed amongst a number of different voice types. It therefore seems a perfectly natural choice to follow this arrangement for the young artists performing here (Hanna Hipp, Pablo Bemsch and Susana Gaspar).
The 1CD set is accompanied by Opera Rara's legendarily fabulous packaging, including a complete libretto for Le Portrait de Manon and song translations for Les Nuits d'été and detailed notes on the pieces from musicologist Hugh Macdonald.