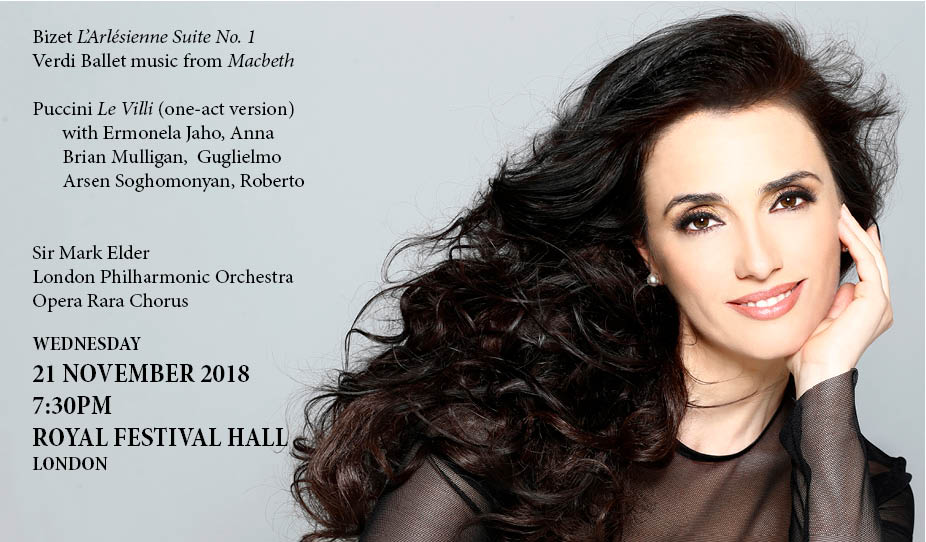 Opera Rara and the London Philharmonic Orchestra present Puccini's Le Villi in concert
July 30, 2018
On Wednesday 21 November, Opera Rara and the London Philharmonic Orchestra will present a concert staging of the original one-act version of Le Villi.
The reconstruction of the original one-act version of Le Villi will give audiences the chance to hear Puccini's first opera as it has not been heard for more than 120 years—since its first performances in May 1884. Soon after the work's successful premiere at Milan's Teatro dal Verme, Puccini, at Ricordi's behest, set about revising the work, dividing it into two acts and adding a romanza for the soprano. This is the form in which the work has been performed ever since; the one-act version was never published, and remains unknown, but has just been made available in a new critical edition published by Ricordi.
The one-act version is of considerable interest for the insight it gives into Puccini's developing grasp of both operatic form and orchestral technique. Besides adding numbers when he reworked the opera, Puccini elaborated the orchestral texture, adding weight with instrumental doublings, and bolstering key moments with cornets and contrabassoon. In comparison with the revised version, then, the original one-act opera reflects a distinctly different aesthetic—one that is rather sparer, and somewhat less hyperbolic in tone than the two-act reworking.
Opera Rara's Artistic Director Sir Mark Elder conducts the London Philharmonic Orchestra in both a recording and concert staging of the opera. This will be the Orchestra's sixteenth collaboration with Opera Rara and follows Rossini's Aureliano in Palmira and Bellini's Il pirata. Returning for her second collaboration with Opera Rara, Ermonela Jaho – the star of the company's revival of Leoncavallo's Zazà in 2015 – sings the role of Anna. Armenian tenor Arsen Soghomonyan will make his UK debut as her lover Roberto and Brian Mulligan sings the role of her father Guglielmo.
One of the finest orchestras on the international stage, the London Philharmonic Orchestra was founded in 1932 by Sir Thomas Beecham. Since then, its Principal Conductors have included Sir Adrian Boult, Bernard Haitink, Sir Georg Solti, Klaus Tennstedt and Kurt Masur. In 2007 Vladimir Jurowski became the Orchestra's current Principal Conductor. The London Philharmonic Orchestra has been performing at Southbank Centre's Royal Festival Hall since it opened in 1951, becoming Resident Orchestra in 1992.