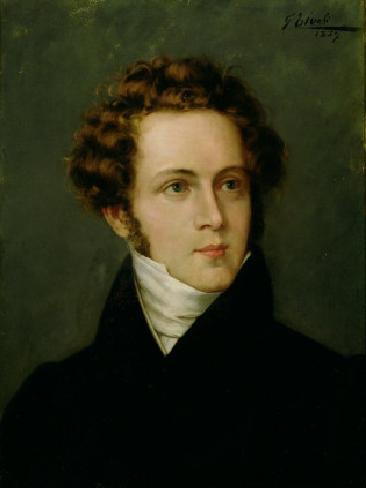 Vincenzo Bellini
Composer
Born in 1801 in Catania, Sicily, to a family already steeped in music; his father and grandfather were both career musicians, Bellini began composing before receiving any formal music education.
He entered the Royal College of Music of San Sebastiano, now the Naples Conservatory, in 1819 and became a primo maestrino in 1824. The conservatory's students performed Bellini's first opera, Adelson e Salvini and after the initial performance in February 1825 it was performed repeatedly throughout the year. This particular work was never performed outside of the conservatory, but served as a source of material for at least five other operas Bellini composed. Domenico Barbaja of the San Carlo Opera offered Bellini his first commission for an opera, which resulted in Bianca e Fernando (1826). This was followed by a second from Barbaja, Il pirata (1827), and led to a long-term collaboration between Bellini and librettist Felice Romani. The premiere of Il pirata on 27 October 1827, at La Scala, Milan, established Bellini as an internationally acclaimed opera composer.
His opera Zaira (1829), written with Romani for the inauguration of the Teatro Ducale at Parma, was hurriedly completed; the opera was a notable failure and was never produced again. He rebounded, though, with I Capuleti e i Montecchi (based on Shakespeare's Romeo and Juliet) in 1830.
1831 proved most successful for Bellini as two of his most famous operas, La sonnambula and Norma, were produced. Although Norma was unenthusiastically received, many critics and Bellini himself believed it to be his finest work. Its aria "Casta diva" is one of the evergreens of the classical vocal repertory. These two operas were followed by a less successful composition, Beatrice di Tenda. This opera was premiered at La Fenice, Venice, on March 16, 1833, a month later than scheduled; the failure led to the falling out of Bellini and Romani.
Bellini spent the summer of 1833 in London directing performances of his operas. He then moved to Paris, where he composed and produced his last opera, I puritani, which premiered on January 24, 1835. Unlike Bellini's previous two operas, I puritani was enthusiastically received. At the height of his career and only 33 years old, Bellini died of a chronic intestinal ailment on 23 September 1835.